1 U.S. Dollar = 0.89 Swiss Francs
GOLD PRICE PER TROY OZ: Norwegian Krone

Code: NOK

Ask: 8,108.46

Bid: 8,102.81

GOLD PRICE PER TROY OZ: Lithuanian Litas

Code: LTL

Ask: 3,322.96

Bid: 3,320.65

GOLD PRICE PER TROY OZ: Israeli Shekel

Code: ILS

Ask: 4,415.11

Bid: 4,412.04

GOLD PRICE PER TROY OZ: Hungarian Forint

Code: HUF

Ask: 301,554.79

Bid: 301,344.82

GOLD PRICE PER TROY OZ: Danish Krone

Code: DKK

Ask: 7,175.08

Bid: 7,170.08

GOLD PRICE PER TROY OZ: Yemeni Rial

Code: YER

Ask: 299,849.25

Bid: 299,656.21

GOLD PRICE PER TROY OZ: Tunisian Dinar

Code: TND

Ask: 2,296.18

Bid: 2,294.71

GOLD PRICE PER TROY OZ: Syrian Pound

Code: SYP

Ask: 135,850.67

Bid: 135,763.21

GOLD PRICE PER TROY OZ: Somali Shilling

Code: SOS

Ask: 2,023,133.60

Bid: 2,021,831.16

GOLD PRICE PER TROY OZ: Sudanese Pound

Code: SDG

Ask: 6,160.19

Bid: 6,156.22

GOLD PRICE PER TROY OZ: Qatari Riyal

Code: QAR

Ask: 5,088.24

Bid: 5,084.97

GOLD PRICE PER TROY OZ: Omani Rial

Code: OMR

Ask: 537.37

Bid: 537.02

GOLD PRICE PER TROY OZ: Mauritanian Ougiya

Code: MRO

Ask: 365,359.85

Bid: 365,124.64

GOLD PRICE PER TROY OZ: Moroccan Dirham

Code: MAD

Ask: 11,962.69

Bid: 11,954.99

GOLD PRICE PER TROY OZ: Libyan Dinar

Code: LYD

Ask: 1,780.75

Bid: 1,779.60

GOLD PRICE PER TROY OZ: Lebanese Pound

Code: LBP

Ask: 2,101,393.52

Bid: 2,100,040.69

GOLD PRICE PER TROY OZ: Jordanian Dinar

Code: JOD

Ask: 990.49

Bid: 989.85

GOLD PRICE PER TROY OZ: Iraqi Dinar

Code: IQD

Ask: 1,601,216.66

Bid: 1,600,185.84

GOLD PRICE PER TROY OZ: Algerian Dinar

Code: DZD

Ask: 110,648.24

Bid: 110,577.00

GOLD PRICE PER TROY OZ: Djiboutian Franc

Code: DJF

Ask: 251,077.45

Bid: 250,915.81

GOLD PRICE PER TROY OZ: Bahraini Dinar

Code: BHD

Ask: 526.47

Bid: 526.13

GOLD PRICE PER TROY OZ: Czech Koruna

Code: CZK

Ask: 31,404.36

Bid: 31,386.55

GOLD PRICE PER TROY OZ: Polish Zloty

Code: PLN

Ask: 5,051.18

Bid: 5,048.36

GOLD PRICE PER TROY OZ:

Code:

Ask: 0.00

Bid: 0.00

GOLD PRICE PER TROY OZ: Canadian Dollar

Code: CAD

Ask: 1,733.39

Bid: 1,714.21

GOLD PRICE PER TROY OZ: Indonesian Rupiah

Code: IDR

Ask: 15,123,791.85

Bid: 15,114,978.45

GOLD PRICE PER TROY OZ: Peruvian Nuevo Sol

Code: PEN

Ask: 4,678.45

Bid: 4,675.72

GOLD PRICE PER TROY OZ: Colombian Peso

Code: COP

Ask: 3,754,390.59

Bid: 3,739,947.34

GOLD PRICE PER TROY OZ: Kuwaiti Dinar

Code: KWD

Ask: 467.86

Bid: 466.73

GOLD PRICE PER TROY OZ: Singapore Dollar

Code: SGD

Ask: 2,131.10

Bid: 2,129.86

GOLD PRICE PER TROY OZ: Brazilian Real

Code: BRL

Ask: 2,945.92

Bid: 2,927.06

GOLD PRICE PER TROY OZ: Hong Kong Dollar

Code: HKD

Ask: 13,365.98

Bid: 13,271.12

GOLD PRICE PER TROY OZ: New Zealand Dollar

Code: NZD

Ask: 2,090.29

Bid: 2,089.07

GOLD PRICE PER TROY OZ: Rand

Code: ZAR

Ask: 13,741.74

Bid: 13,562.33

GOLD PRICE PER TROY OZ: Yuan Renminbi

Code: CNY

Ask: 10,900.27

Bid: 10,876.77

GOLD PRICE PER TROY OZ: Yen

Code: JPY

Ask: 134,064.55

Bid: 133,935.00

GOLD PRICE PER TROY OZ: Swedish Krona

Code: SEK

Ask: 10,947.26

Bid: 10,940.88

GOLD PRICE PER TROY OZ: Australian Dollar

Code: AUD

Ask: 1,628.60

Bid: 1,626.79

GOLD PRICE PER TROY OZ: Pound Sterling

Code: GBP

Ask: 1,066.41

Bid: 1,064.93

GOLD PRICE PER TROY OZ: Malaysian Ringgit

Code: MYR

Ask: 5,263.11

Bid: 5,260.04

GOLD PRICE PER TROY OZ: Vanuatu Vatu

Code: VUV

Ask: 159,927.33

Bid: 159,834.13

GOLD PRICE PER TROY OZ: Swiss Franc

Code: CHF

Ask: 1,504.60

Bid: 1,502.87

GOLD PRICE PER TROY OZ: Indian Rupee

Code: INR

Ask: 83,522.37

Bid: 83,456.56

GOLD PRICE PER TROY OZ: Philippine Peso

Code: PHP

Ask: 73,355.28

Bid: 73,312.53

GOLD PRICE PER TROY OZ: Argentine Peso

Code: ARS

Ask: 5,417.80

Bid: 5,397.51

GOLD PRICE PER TROY OZ: Euro

Code: EUR

Ask: 1,237.57

Bid: 1,235.99

GOLD PRICE PER TROY OZ: Mexican Peso

Code: MXN

Ask: 22,895.42

Bid: 22,864.94

GOLD PRICE PER TROY OZ: United States Dollar

Code: USD

Ask: 1,715.04

Bid: 1,714.04

GOLD PRICE PER TROY OZ: Producer index

Code: PROD IDX

Ask: 74.16

Bid: 74.16

GOLD PRICE PER TROY OZ: Russian ruble

Code: RUB

Ask: 132.63

Bid: 132.63

GOLD PRICE PER TROY OZ: Vietnamese dong

Code: VND

Ask: 1,841,196.88

Bid: 1,841,196.88

GOLD PRICE PER TROY OZ: Egyptian pound

Code: EGP

Ask: 994.64

Bid: 994.64

GOLD PRICE PER TROY OZ: Consumer index

Code: CONS IDX

Ask: 48.27

Bid: 48.27

GOLD PRICE PER TROY OZ: Turkish lira

Code: TRY

Ask: 0.10

Bid: 0.10

GOLD PRICE PER TROY OZ: G5 currency index

Code: G5 CCY

Ask: 78.26

Bid: 78.26

GOLD PRICE PER TROY OZ: Saudi riyal

Code: SAR

Ask: 735.19

Bid: 735.19

GOLD PRICE PER TROY OZ: Korean won

Code: KRW

Ask: 107,409.78

Bid: 107,409.78

GOLD PRICE PER TROY OZ: Thai baht

Code: THB

Ask: 4,452.10

Bid: 4,452.10

GOLD PRICE PER TROY OZ: UAE dirham

Code: AED

Ask: 850.82

Bid: 850.82
FILL OUT OUR FORM FOR MORE INFO:
Gold's Role in Building a Diverse Portfolio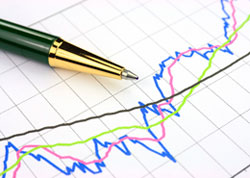 Asset diversity and risk management are two hallmarks of most successful investment portfolios. History has shown that financial crises, from America's Great Depression to the dotcom bubble bursting, can and do strike. When they do, having a balanced and diverse portfolio can protect you from suffering through your own financial crisis.
Relying on just one or two markets or investment vehicles exposes you to financial risk if your assets turn south. A sound investment portfolio contains a wide range of asset types and risk levels.
There are three ways to improve the diversity of your portfolio: holding a diverse array of assets, penetrating foreign markets and purchasing assets that have varying levels of investment risk.
Asset Diversity
Owning a wide range of assets insulates you from the risk of your entire investment portfolio sinking with one or two bad assets. Distributing your money across a variety of investments - such as annuities, physical gold holdings, gold futures and stocks - provides an ideal balance of risk exposure and security.
Market Diversity
Investing in multiple world markets adds another layer of diversity to your portfolio. It makes little sense to diversify your assets if they are still held within a single country. Doing so pegs your portfolio to that country's financial well-being. In today's volatile global economy, that could spell disaster for your life savings. Investing in The Swiss Gold Annuity™ is a safe and sensible way to branch out into international markets.
Risk Diversity
No investment portfolio should be entirely composed of assets with similar risk. A balance of low- and high-risk assets allows you to take chances on volatile investments like stocks without jeopardizing your entire nest egg. Low-risk assets like annuities and physical gold holdings function as excellent hedges against more speculative investment vehicles like stocks or gold futures.
Many financial theorists and practitioners recommend allocating between 10 and 15 percent of your funds toward gold-related investments and holdings. Please note that The Swiss Gold Annuity™ allows you to place any type of gold investment within your policy. For a more detailed explanation of the various investment options, please refer to our page on Gold Investment Options.